5 Key Changes In SQF Edition 9
Overview
Starting on May 24th, 2021, SQF certified sites seeking initial certification or recertification will be audited against the SQF Edition 9 codes. These new SQF code releases brings several changes, updates, and revisions to the currently implemented edition 8.1 codes. SQF certified facilities and those that will be ready for initial certification after this date should make sure they are in compliance with all new and updated requirements outlined in the edition 9 release. This article highlights 5 of the key changes to the System Elements from SQF edition 8.1 to SQF edition 9 of the Food Safety Code: Food Manufacturing, identified by our in-house registered SQF consultant.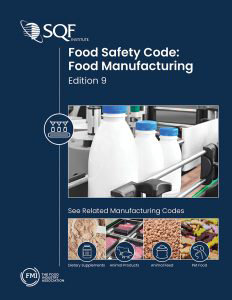 SQF Food Safety Code: Food Manufacturing – Edition 9
Addition of Food Safety Culture (2.1)
Section 2.1, Management Commitment, sees the update or addition of two mandatory Management Responsibility elements (2.1.1.1 and 2.1.1.2) in SQF edition 9.
2.1.1.1 now requires manufacturers to create and implement a written policy statement outlining a commitment that includes:
Establishment and maintenance of food safety culture
2.1.1.2 ensures that management is leading and supporting this culture with the following actions:
Communication of objectives to relevant staff
Ensuring proper resources are available
Practices are adopted and maintained
Employees are informed and held accountable for responsibilities, are encouraged to notify management of issues, and empowered to resolve food safety issues.
Updated SQF Practitioner Requirements (2.1)
Section 2.1.1.4 adds the requirement for both a primary and substitute SQF practitioner to be designated. These practitioners shall oversee all aspects of the SQF system, as well as take action to implement and maintain the system.
Learn more about the importance of substitute SQF practitioners here.
Revised Product Release Procedure (2.4)
SQF Edition 9 revises the product release requirements. It is now mandatory to implement product release sections 2.4.7.2 and 2.4.7.3.
Section 2.4.7.2 is a new element that requires product release to include a procedure to confirm that product labels comply with the applicable food legislation.
Section 2.4.7.3 is a new element that requires sites that use positive release based on product pathogen or chemical testing to not release applicable product until acceptable results have been received. Effective communication and verification methods must now be in place where off-site or contracted warehouses are used for storage of applicable product.
Updated Mock Recall Requirements (2.6)
Changes to the 2.6.3.2 element include the added requirement that recall tests must now be used on products from different shifts and on materials used across a range that are shipped to a variety of customers.
Addition of Personnel Training Requirements (2.9)
Edition 9 combines the six existing training elements into two (2.9.1 and 2.9.2). The following mandatory training requirements for personnel have also been added to these elements:
Sampling and test methods
Environmental monitoring for relevant staff.
Allergen management, food defense, and food fraud for all relevant staff.
Contact our SQF Certified Food Safety Consultants Today!