CME Technology Assessment Program – What You Need to Know
Last Updated: Dec 12, 2020
At Mallot Creek we work with food and beverage companies of all shapes and sizes. While we would never shy away from a smaller client, the reality is that not every food company can afford to bring in a consultant to look for opportunities to reduce costs and/or increase throughput. What excites us about the CME Technology Assessment program is the prospect of working with smaller sized businesses that otherwise couldn't contract us. The CME program allows for up to 100% of our services to be covered, making it a great fit for any company looking to bring further efficiencies to their operation. When ALL food and beverage companies are given the opportunity to strengthen their management practices, learn about continuous improvement philosophy, and yes, adopt new technology, the effects can be felt across the industry!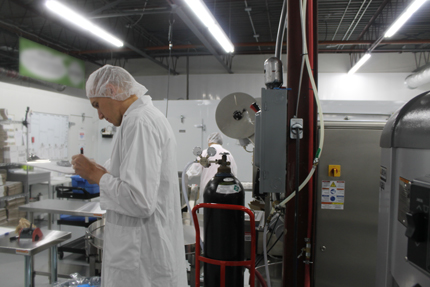 A member of our Process Improvement team assessing technology at a vegan food manufacturing facility in southern Ontario.
Why does CME offer funding for technology assessments?
Global statistics drive much of the strategy behind the CME Technology Assessment program. These global statistics show Canadian manufacturers, on average, lag their international counterparts when it comes to investing in new machinery, equipment and technologies. Further, within Canada, the food and beverage sectors rank near the bottom. When considering the percentage of companies within our industry that use "advanced/emerging technologies", food can be seen at ~50% and beverage at ~40%.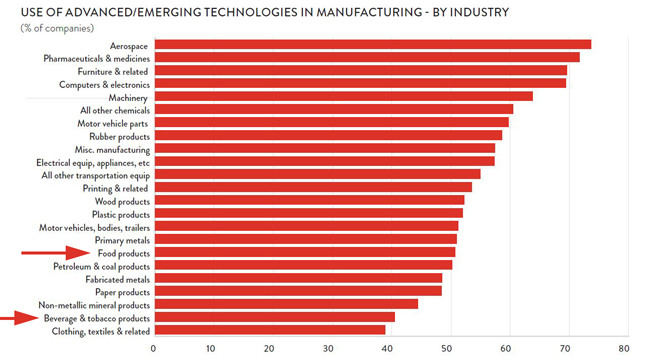 Source: EMBRACING CHANGE: Industry 4.0 and Canada's Digital Future in Manufacturing, Statistics Canada
In CME's 2019 "Management Issues Survey", Canadian manufacturers were asked why they aren't investing in new equipment and technology. The most common response was that they were uncertain if there would be a return on their investment [1]. This is where the CME program and Mallot Creek can help! Through our assessment we will ensure that the technology being recommended is the right fit and conduct a thorough analysis that shows precisely what wastes [2] will be eliminated through the purchase. As part of our process, we also make recommendations of a more "creative" variety that will help improve processes without capital investment. Lastly, our final deliverable takes the shape of a customized report that identifies where your facility is constrained, the magnitude of that constraint, our proposed solution, and a detailed cost-benefit analysis.
Overview
Canadian Manufacturer and Exporters (CME) are providing eligible manufacturers up to $25,000 to get customized technology assessments by qualified experts.
Projects can focus on areas such as:
Productivity
Process flow
Quality (for example, ISO Certification)
Waste reduction
Environmental impact (various green certifications)
Energy efficiency (production level)
Information and management systems
Learn More About the Program Here
Frequently Asked Questions about the program
Eligibility
Must be located in Southern Ontario
Employ between 15 and 500 full-time employees
Have been incorporated for more than 2 years
Must not be receiving other contributions for the same activities
Project Phases
Submission of Eligibility Form – request a form here
Technology Assessment Application and Proposal (Mallot Creek can assist with this application)
Assessment
Final Assessment Report and Claim