7 Common Food Labelling Mistakes to Avoid
If you have made any of the following food label infractions, you are not alone! Below is a list of 7 Common Food Labelling Mistakes made by Canadian food manufacturers.
The Canadian Food Inspection Agency (CFIA) offers a Food labelling requirements checklist for the industry that acts as a self-assessment tool to outline core labelling requirements. Although these resources are available to anyone, our food safety team often recognizes mislabeling that clients are completely unaware of. We wanted to share 7 common food labelling mistakes we come across in our reviews, with hope to help other industry parties avoid the consequences of mislabeling.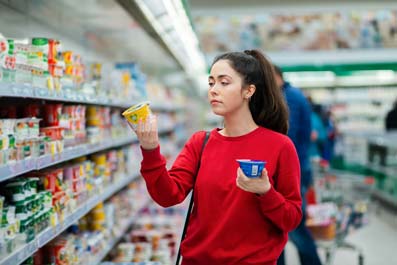 Interchanging Bilingual Food Labelling – Consistency is key! Any mandatory information on a consumer prepackaged food label must be shown in both English and French. Our team recommends keeping consistent throughout the label. For example, if the common name is written English first, French second, then the storage instructions should be written using the same consistency "Keep refrigerated / Garder réfrigéré".
A missing

Inspection Legend

on meat products – When edible meat products are interprovincially traded or exported, the Canadian inspection legend must appear on the label of an edible meat product. If an edible meat product is imported, it must bear the official inspection mark of the foreign state of origin.

Storage Instructions

that are unapparent or unclear – Storage instructions are mandatory on food labels that require a best before date (product has a shelf life of 90 days or less) and when its storage conditions differ from normal room temperature. Not only do proper storage instructions protect consumers from a food safety perspective, they also protect the integrity of the product from external elements while maximizing its shelf life, a win-win.
Improper Date Marking formatting or placement – Preferred legal format of best before date markings in Canada is "best before / meilleur avant" or "BB/MA" followed by the date in the format YYMMDD (year, month, day). The year is only necessary for further clarification (if the best before date extends into the following year). Additionally, if the date appears on the bottom of the package the location must be indicated on the label elsewhere using the statement "best before: see bottom". This statement is often forgotten on products sold in bottles or cans as many manufacturers have a preference to add the best before date to the bottom of the package.
Incorrect

Grouping Sugar-Based Ingredients

– Sugar based ingredients are required to be grouped in the list of ingredients under the term 'Sugars'. The purpose of sugar grouping is to help consumers recognize hidden sugar based ingredients in their food products. For example, a consumer may not know that 'agave syrup' or 'cherry purée' is a sugar based ingredient unless highlighted behind the term 'sugars'. Importers to Canada often struggle to group their sugar based ingredients as this is not a requirement in many other countries.
Net quantity declaration – It's great that the net quantity has been declared on the label of your product, but it must be in the correct units and type height. You may think pickles or olives should be declared by weight on the label, but after reading the table

Units of Measurement for the Net Quantity Declaration of Certain Foods

you will see they should declared by volume. Additionally, the type height of the net quantity declaration is based on the area of principal display surface, the table for Minimum Type Height for Net Quantity Declaration is a helpful tool to reference when determining how large your font is required to be.
Incorrect reference amounts used in a nutrition facts table – the reference amount in a nutrition facts table represents the amount of food typically consumed in one sitting. Different types of foods have different serving sizes that are determined by Health Canada and can be found at the

Table of Reference Amounts for Food

. If you choose the wrong reference amount, the values displayed in the product's nutrition facts table will all be incorrect.
Do any of your current food labels contain one or more of the mistakes mentioned above?
If so, visit our food label reviews page to learn how our food safety experts review labels for regulatory compliance. If you have any questions about this article, or other industry labelling related questions, please reach out to our food safety team for assistance via the contact form below.